Dreams & Nightmares Art Project takes over CSD's walls and halls
The art students of CSD have unveiled their second semester project in a show called Dreams and Nightmares. 
When crafting pieces for the show, students had complete artistic freedom as long as their art was somehow related to the theme in any way. 
"Students are tasked with creating meaningful artwork within the unit theme." said art teacher, Jessica Jones. "After participating in weeks of art explorations and specific skill-building lessons with different art mediums, students are presented with the unit theme, brainstorm ideas for that theme, create a project proposal, and after approval, begin their final project."
From paintings to sculptures, photography , to pencil and pen drawings, and even 3-D larger than life creations, CSD students went wild with their artistic creations that are now on display all around the building.
Sophomore, Isolde Phelps ('25), created "Stop Destroying My Bugs WIth Your Nightmares" using crayons, acrylic, paint and cardboard. It is a beautiful and vibrant piece that has a deep message in it.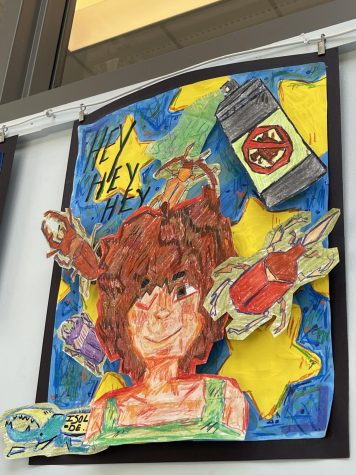 She said, "The emotions I want to display in this project are confusion and dreams and staying strong to prevent negativity."
Another one of the student artists, senior Joel Rodriguez ('23), made several eye-catching art pieces that are currently hanging up in the arts commons. Like other students, Joel took his own spin on the Dreams and Nightmares theme.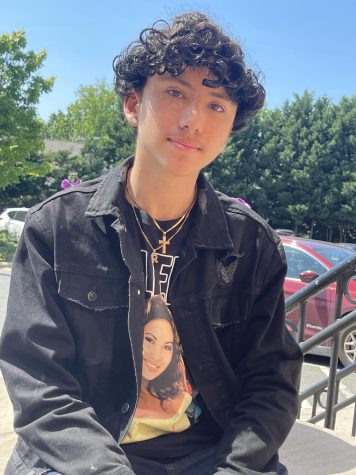 "What the Dreams and Nightmares Art Project means to me," said Joel, "is the ideas of blurring the line between a dream and a nightmare, not being able see which is which."
His favorite art piece is called Graduation Day.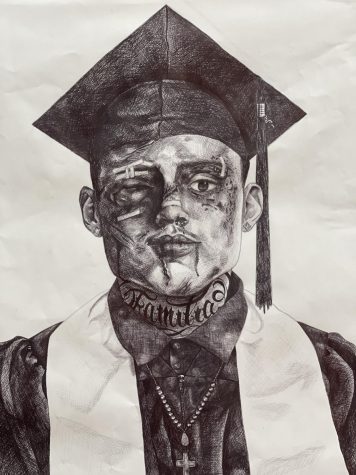 "Graduation Day is my favorite because of the meaning behind it and the impact it has had on people that have seen it," said Joel. "Graduation Day was made to show the similarities in being in a gang and graduating high-school. In a lot of communities it is a right of passage to be jumped into a gang and in other communities it is a right of passage to graduate.
"Along with that, when you graduate you are hopefully set for life, and when you're in a gang you are unfortunately set, too," he said.
 As more and more students and guests make time to view the display, Joel and the other artists couldn't be happier. Their hard work brightens CSD's walls and halls as the 2023 year comes to a close.