Winter Arts Night…The return – Highlighting some student work
Arts Night is a night at CSD dedicated to featuring the creativity of student artists. Parents and students are invited to tour the halls of CSD, admire the art, watch demonstrations and performances and even purchase some creations.
All arts electives are included, but the majority of students who participate are in visual arts, so most of the halls fill with paintings, drawings and sculptures from visual arts students representing grades nine through twelve.
Here are five images from the first Winter Arts Night since COVID, selected and explained.
The first image is a drawing piece by Noah Watson ('25). It resembles a brain wearing headphones. Watson says music is something important to him, it helps him cope with "the stress of school and life." Watson says music and noise can "give you space to be alone."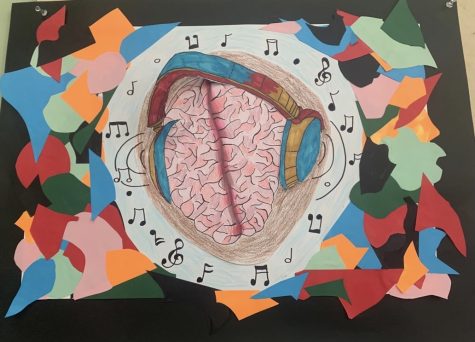 The second image is a piece by Aaron Alcamo ('23). This painting is a self portrait of Alcamo with lots of movement around him, resembling "finding yourself." Alcamo says he wants the viewer to make their own inferences about him "through the composition" of his artwork.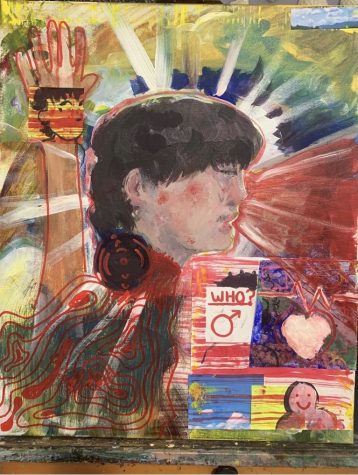 The third image is a sculpture of a bird made of reused resources. Javier Sanchez-Watts ('26), says this piece came to be "a collection of failed ideas." Javier focuses on the "scavenge" prompt when making this piece, as he explains in his step by step thought process.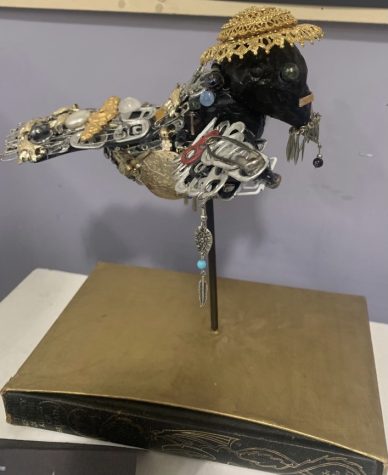 The fourth image is a magazine cutout collage. Zoey Ciampaglia ('26), says her piece is based on "how humans have been taking over the habitat of many animals." The words "our connection to the land is our connection to the future" is spelled out in magazine word clips.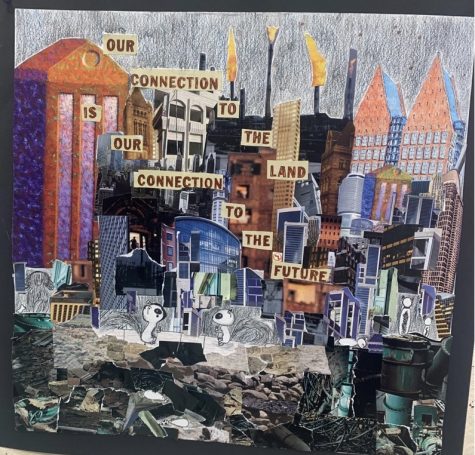 The fifth and final image is by Liam Hogan ('26). Hogan drew a person pushing a boulder up a hill. He says it is based on relentlessness.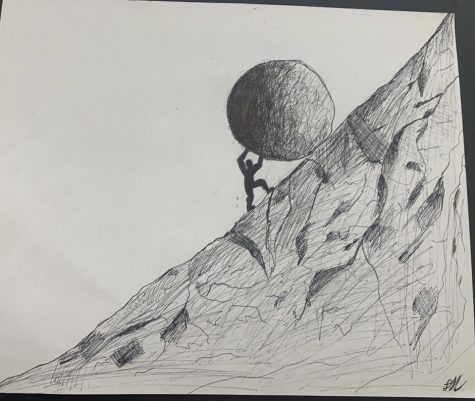 Arts Night is about creativity, curiosity, resilience, motivation, social, emotional, and academic skills through the arts.