Many say the first week of fall is one of the most enjoyable times at CSD. In the week leading up to Homecoming, CSD has a Spirit Week full of theme days, a packed football game and the first school dance of the year. 
This year, the first day of Homecoming's Spirit Week was Twin Day. Students coordinated their outfits the day before and came to school donning matching outfits. From Ninja Turtle onesies to matching jeans and blouses, the day was full of mirror images wherever you looked.
"I twinned with Marshall Ricks ('25)," said Alex Kuntz ('25), "And I thought it was a great display of Spartan spirit."
Some people who chose not to participate still thoroughly enjoyed the day.
"I forgot about twinning," said Conner Shelton ('25), "But I got a good laugh out of seeing everybody's creativity."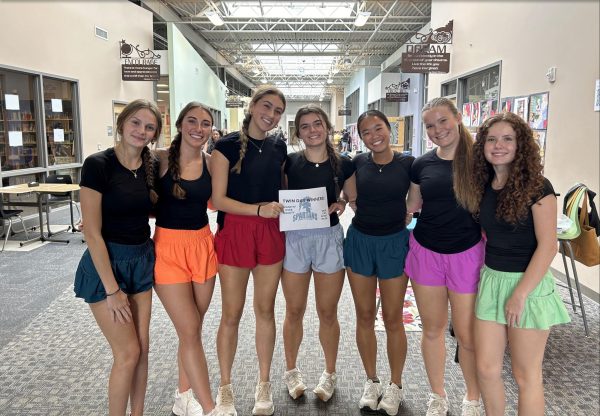 Overall Twin Day was a hit and many people showed out with their school spirit.
The second day of Spirit Week was Anything But a Backpack Day. As the name suggests, it was a day when students were told to bring anything but a backpack to school to carry their books and school items.
Now, at first glance, it may seem hard to substitute something for a backpack, but once you take a look you can really come up with some creative ideas.
And Spartans certainly did.
Senior, Josh Renshaw ('24), decided to use a fully functioning, full sized grill as his backpack substitute.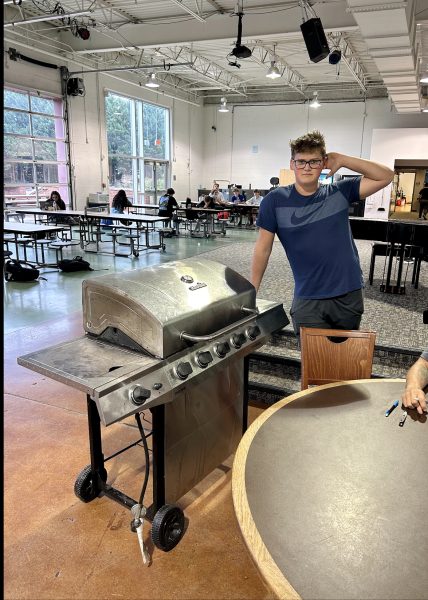 There were several other creative ideas varying from coolers to wheelbarrows in the halls. Some of the more creative backpack replacements were a baby stroller brought by Rylan Cleary ('27), a medical scooter brought by Trevor Bedson ('26), a wheelbarrow brought by Jack Suthard ('25) and a hobo bag on a stick brought by Jack Parrot ('25). 
Anything But a Backpack Day was a great way for people to show their creativity and get a good laugh.
The last themed Spirit Week day was probably the most involved within the student body. PJ Day is a student body favorite that usually makes its way around a lot of schools every Homecoming season. 
At CSD, some students regularly wear PJ's to school as they are very comfortable during the school day but PJ Day '23 took it to new heights. Walking into the school was surprising as there was plenty of PJ representation from the 1st to 8th blocks. 
Choosing PJ Day as the last day before the official Homecoming weekend was a great choice since it was much simpler to participate in compared to Anything But a Backpack Day or coordinating on Twin Day with someone.
While the upperclassmen advisories spent their Friday building floats, the ninth-grade advisories built games for the 8th graders to play during a two hour-long rotation. 
Some of the games included What's in the box, a stop and go Cake Walk, How High Can You Jump, Poker and more. 
While some skill games were popular, other games were unpredictable and unscripted. 
One advisory made a play on the game What's In The Box. They had boxes full of wet pinto beans and soap, orbeez and even a couple of dry boxes with squishy balls or legos for people who didn't want to put their hands into the "gross" boxes.  
Before the Spartan Homecoming Pep Rally, upper class advisories came together to build floats. This year's float theme was "video games." With weeks of planning, then several hours of putting the floats together, this Friday tradition symbolized the true beginning of the Homecoming tradition.
Ms. Chaffman's advisory was one of a couple groups that built a Subway Surfers themed float. 
Building a float is not an easy process and it requires a lot of impromptu structural engineering. For example, Ms. Chaffman's advisory float began falling apart and required a lot of quick taping to keep together. They made use of an abundant amount of spray paint, as well.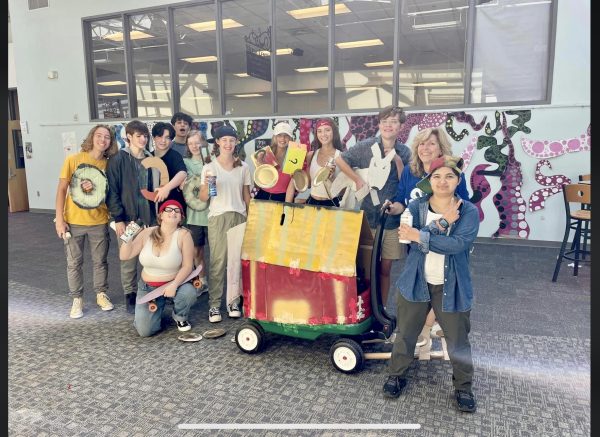 Overall, float building was an enjoyable tradition that freshmen should get excited to join next year.
When the floats were finished, it was time for all advisories to parade out the front door, around the school and in the back. 
After entering the gym and positioning all the floats for judging, students flooded the stands and grabbed a seat for the start of the Spartan Homecoming Pep Rally. CSD's cheerleading team ran out and gave an incredible performance, hyping up the crowd for the main event, CSD's iconic volleyball match – girl's varsity volleyball team versus senior boys. It was best two out of three to ten. 
This year's match was intense. While the first set was an easy win for the girls, the boys made the second set a little more challenging. In the end, the girls won the volleyball game. 
Next, Josh Renshaw ('24), CSD's student government representative, led the student body in some games starting with a balloon pop race. The rules were simple. One student stood on the half-court line waiting for their other classmate to run into them while holding a balloon and trying to pop it between their bodies. It wasn't always pretty but it was fun to watch.
After the balloon pop race, there was a tug-a-war round robin. Seniors started against the freshman.
Freshman, Isabel Sands ('27), who participated in the tug-a-war, said, "It was so fun, but slightly scary because people were losing their shoes and slipping." 
The seniors won the first tug-a-war, then sophomores battled the juniors and the juniors won. The two winners, juniors and seniors, went against each other, wrapping up the day (and week) in school. 
While every football game is fun, nothing is like the annual Homecoming game. That evening, the 2023 CSD Homecoming football game was highly entertaining and successful. While CSD didn't have their best game, the Spartans were still able to pull off a big win on such an important night.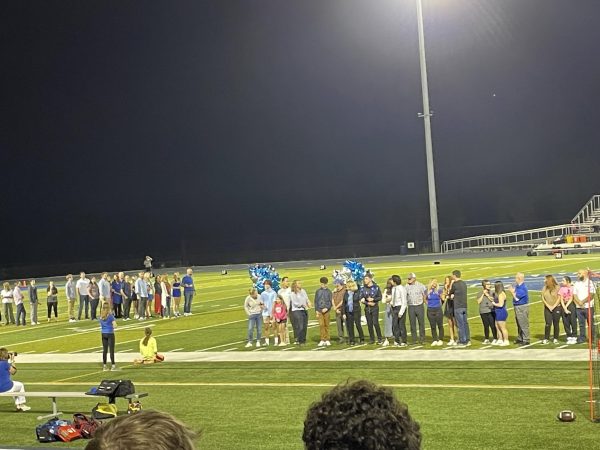 While some focused on football, most of the energy was on the students and the fan atmosphere. Students were not hard to find under the Friday night lights as most were dressed for the neon theme.

Bright colors and glow in the dark dominated the stands. 
With seniors leading the overflowing student section and the packed parent section nearly as loud, the Spartan family cheered on their team to a 43 – 20 victory.
And finally, one night later, students returned to school for the actual Homecoming dance. It was the big finale of the week-long celebration of school spirit.  On Saturday night beginning at 8 PM, current high school students enjoyed 2 hours of a glow-in-the-dark-themed semi-formal dance.  
The entire school was not open, attendees stayed at the front. The boundaries included both the arts and main commons with each location having something different to offer. 
In the main commons, balloons and streamers decorated the area where a DJ who was set up on the stage blasted music while colorful lights flashed.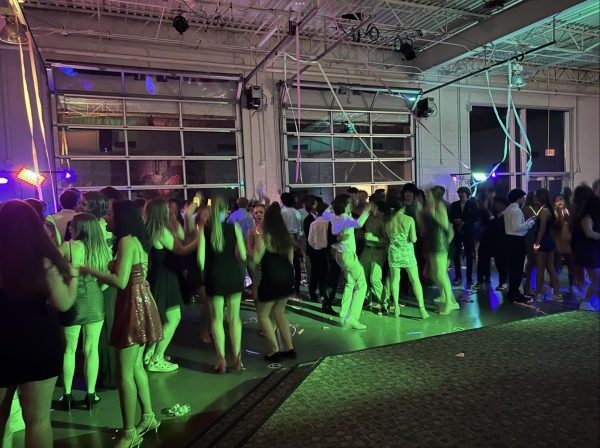 Through the doors in the arts commons, it was much quieter in terms of both sound and lighting. Tables stood with bottled water plus plates of chocolate chip cookies/brownie brittle and glow sticks dotted the area. 
Spirit Week and CSD Homecoming is definitely a crazy time on the high school calendar. This year there was a little something for everyone. It was truly Spartantastic.