Early season athletic practices and back-to-school activities are notoriously unpredictable but what recently happened at CSD'S Spartan Park truly had people blown away.
On August seventh, as women's tennis was finishing practice, clouds marched across the sky blotting out the summer sun and personal cell phones blew up with National Weather Service (NWS) alerts. A tornado was heading straight towards the complex.
"We didn't even know it was supposed to be a tornado at first," said senior tennis player, Ava Jordan ('24). "There was lots of thunder and it was dark and then Coach Maggie ended practice and we all rushed home."
It hit a few minutes later. According to WCNC, the tornado was classified as an EF-0 – the weakest category – and it tracked with wind speeds upwards of 85 miles-per-hour. 
The funnel first touched down on nearby McIlwaine Road before moving northwest. It skirted along the edge of the practice field before ripping up the trees near the tennis courts  and continuing onto Beatties Ford Road.
"I was there as it was happening, yes. Very much wish I wasn't," said John Bellissimo, CSD's first year athletic director. "Actually [I] tried to leave and head home to my family but I only got one hundred fifty feet down Beatties Ford Road before I realized I should just bunker down at the field house." 
The storm was quick and powerful.
"When I opened the back door [after the storm had passed], I saw one of our soccer nets sitting on top of our aux field fence and teetering back and forth on it," coach Bellissimo said.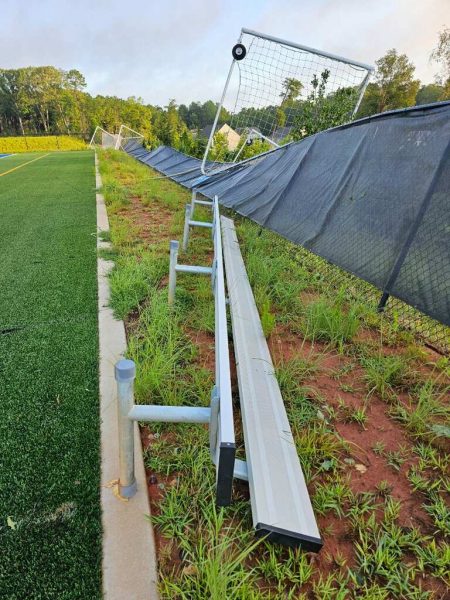 The damage was eye-opening. In addition to flying soccer goals knocking over fences, trees splintered like toothpicks, one falling on the lower tennis courts.

The damage to the courts has had lasting effects weeks after the tornado originally uprooted the oak. The tennis team usually plays on all eight courts but with a pair of the lower courts still out of commission, The Lady Spartans are only using six.
"The matches are taking a whole lot longer to get done," said Lizzie Kees ('25).
There is a lot to coordinate when running a school athletic complex and, going forward, coach Bellissimo now has an item higher on his list, tornadoes and storms preparation.
"You never know what this weather will become of, so we need to be more proactive going forward," said Bellissimo.
With the soccer goals back in place, fences in various stages of repair and the tennis courts soon to open again, the August tornado was a crazy start to CSD's 2023 fall season and the coming games promise to hold even more stories.