Let it glow! Let it snow!
Christmas is just around the corner and it is pretty obvious that people go all out for this holiday. From the beautiful to the tacky, snowy manger scenes to inflatables on the roof, it's all on display. And from the colored lights to the plain white lights and every color design in between, the holiday glows!
And from Minivans decorated to look like reindeer to their drivers wearing ugly Christmas sweaters, this holiday goes from trashy to classy and ornate to extravagant. It might not be a stretch to say some Christmas lights are visible from outer space. 
According to news station WBIW, nearly all Americans get into the Christmas spirit. Studies say that 94% of Americans celebrate Christmas in some way, and 84% say that they decorate. Four out of five Americans say that decorating is a cherished tradition for them and their families.
Personally, I think that decorating is a great way to get into the Christmas spirit. Everywhere you go, from schools to shops to mountaintops, no matter what geographical area you live, you will find a variety of different decorations. Some houses look similar, others very different. 
One of the ways I enjoy seeing Christmas decorations is by driving around with my friends, blasting Christmas music and screaming the lyrics at the top of our lungs. 
One of my favorite places to go when hanging out with friends during the holiday season is McAdenville. Although it is a 30 minute drive from Davidson, it's a beautiful place to go. In this old mill town, nicknamed Christmastown USA, every house is required to decorate during the season. In 2020, the 890 residents lined the trees around the pond to let it glow.
Here at CSD, you can definitely feel the Christmas spirit in the air. Classrooms have Christmas lights and snowflakes on doors. Students even go all out wearing Christmas hats, ugly sweaters and even Christmas pajamas. You might even say that they are literally wearing their Christmas spirit on their sleeves!
(Pictured below, a snowman in a  CSD classroom helps light up the holidays leading up to winter break.)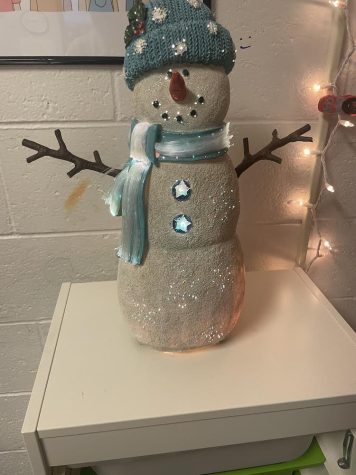 No matter what your opinion is on Christmas decorations, before you know it, the time will come for you to take them down, box them up, and put them away for the year. So get in the spirit, let it glow, let it snow. 
Happy holidays.
(Pictured below, December is a month unlike any other with special holidays filling the calendar.)